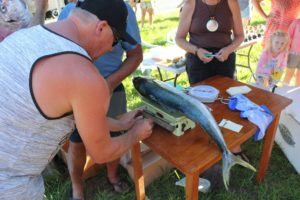 The 2018 Mahurangi West Community Fishing Competition was well attended with a record number of entries totalling 196.  By all accounts, Mike de Pont guessed that this was the 40th year (or close to) that this competition has been run and he thanked the community for their continued support and interest in this local event.  Even though the day was hot and sunny, the brisk on-shore easterly wind prevented many from straying too far out or for too long in the bumpy conditions.  A large crowd gathered at Opahi Bay for the weigh-in on Sunday evening and the crowd was entertained by an impromptu performance from Brandon Turner (winner of 3 aged group categories) who brilliantly sung and played a rendition of the House of the Rising Sun on his guitar – not only can he catch fish, he can sing and play great as well and at the ripe old age of 10!!!
We thank Nicholson Furniture Movers for providing Shimano Fishing Rods & Reels for the winners in the Aged Group competition and Shimano for providing spot prizes.  We also thank Mike & Maree Owsten-Doyle for providing the Chocolate Fish and certificates – the highlight for all the children who register in the event each year.
For the second year running Jamieson Bay took out the Bay Challenge Cup which is based on the number of winners from the Open Competition Category from each Bay.  A very BIG THANK YOU to everyone who participated and who made it a fun and enjoyable event.
AGE GROUP PRIZES FOR:
BIGGEST SNAPPER—Under 7 years (Forbes Trophy)
BIGGEST FISH—Under 7 years (Mike Berger Family Trophy)
Macklin Menzies (4 yrs) – Kahawai
BIGGEST YELLOWTAIL—Under 12 years (Trophy)
BIGGEST FISH—Under 12 years (Huawai Oysters Trophy)
Brandon Turner (10 yrs) – Kingfish
BIGGEST SNAPPER—Under 12 years (Trophy)
MOST FISH—Under 12 years (Brian & Heather Moore Trophy)
Olivia Halpin (5 yrs) – 3 fish
BIGGEST FISH—Under 16 years (Trophy)
Hannah Davey (9 yrs) – Kingfish
OPEN COMPETITION PRIZES FOR:
ODDEST FISH (Trophy)
Antony Fraser (11 yrs) Yellowtail through a Kina (Opahi Bay)
MOST MERITORIOUS CATCH (Wooden Plaque)
Lily McAuley (10 yrs) Snapper Reeled in with a Broken Arm (Opahi Bay)
GREATEST VARIETY (Trophy)
Wesley Hart – 8 different fish varieties (Jamieson Bay)
BIGGEST YELLOWTAIL or KINGFISH (Ray McGreal Memorial Cup)
Wesley Hart – Kingfish (Jamieson Bay)
LADIES' BIGGEST SNAPPER (Kewene Cup)
Rachel Jamieson (Jamieson Bay)
MEN'S BIGGEST SNAPPER (The Earle Opai Memorial Cup)
Jason Smith (Jamieson Bay)
LADIES' BIGGEST FISH (Thomson Cup 1997)
Jadeen Hart – Kahawai (Jamieson Bay)
MEN'S BIGGEST FISH (Jo & Graham Mickell Memorial Cup)
Jarrod de Pont – Kahawai (Opahi Bay)
BIGGEST SNAPPER (Mahurangi West Trophy)
Oliver Wynyard (Jamieson Bay)
BAY CHALLENGE – OPEN COMPETITION (Trophy)
Jamieson Bay Winners = 6 / Opahi Bay Winners = 3